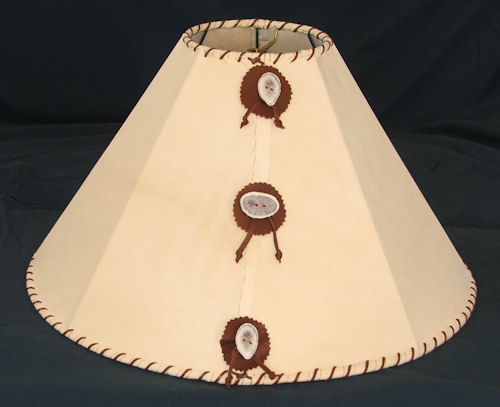 Shown here are our chamois lampshades with antler buttons, and one of our laced chandelier shades.
**Please be aware that all orders for chamois lampshades are currently taking about 30 days to ship.**
Our imported chamois (pronounced 'sham-ee') skins are oil tanned, so they will always stay soft. Don't confuse soft chamois leather with rawhide! Rawhide shades crack and split with heat. Often, with rawhide shades, a low wattage bulb is required to reduce the heat and try to prevent the shade from cracking. This is especially true for the small, rawhide clip-on shades used for antler chandeliers. But chamois can take the heat!
Imagine a chamois shade on a table lamp with a 3 way bulb in your home. On low, you can enjoy the beautiful mood enhancing, amber glow of the chamois, and on high, it's a reading lamp!
Our chamois chandelier clip-on shades are the perfect finishing touch to a stunning antler chandelier, or any rustic hanging light fixture. They clip on to a flame shaped bulb up to 40 watts and will never crack and split.
Our chamois lampshades are made from imported oil tanned chamois skins, so they will always stay soft. They are hand sewn by Kathleen, and hold up to heat far better than rawhide shades.
Because chamois is a natural product, the skins vary in color and patterning. Some of our larger shades feature creative seams, which add to the character of the piece. We offer our chamois shades in all sizes, and with or without decorative brown leather lacing and leather overlays.
Click on one of the thumbnail pictures below or select the shade type you are interested from the menu to get pricing and purchase information for the style you want.