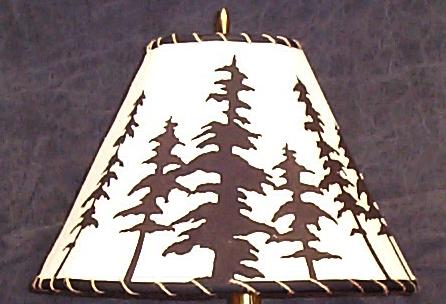 Here is our sunset lampshade. Hold your cursor over the picture to see how the shade changes when lit!
Each of our lampshades is handcrafted for your order.
Our rustic lampshades are made from canvas or muslin painted with Sandy's orignal artwork. These shades come in western, southwestern, and wildlife themes. Many of them change when your lamp is lit.
Our chamois lampshades are made from imported oil tanned chamois skins, so they will always stay soft. They are hand sewn by Kathleen, and hold up to heat far better than rawhide shades.
We love batik fabrics, and decided to add batik lampshades to our line. We have a selection of batik fabrics that go with a range of decors, from rustic to modern.
Our lampshade frames are custom made for us by American manufacturers. This allows us to create lampshades that work with wide variety of lamps - and we are always ready to help you understand which size is right for you.
The thumbnail pictures below offer a glimpse of our variety of shades. Move your mouse over the images and see what happens!