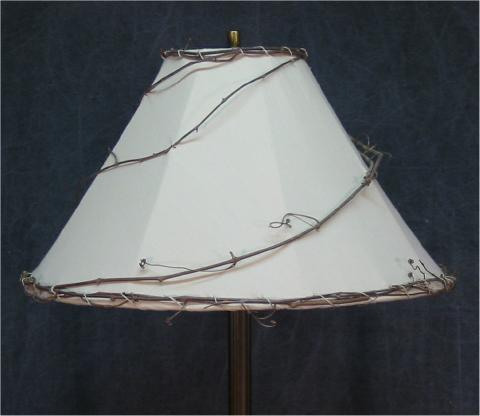 Here is our Leaves and Vine lampshade. Hold your cursor over the picture to see how the shade changes when lit!
Our rustic lampshades are made from painted canvas or muslin stretched over our custom frames. Each lampshade is hand painted. All of our painted canvas lampshades feature Sandy's original artwork, and many of them have a special surprise - The design changes when your lamp is lit! Sandy's designs include southwestern, western and cowboy, nature, wildlife, and animal themes.
Each shade is custom made for your order. No two shades are exactly alike.
Our Animal themes include elk, deer, moose, bear, wolves, buffalo, horses and ducks.
These shades are nicely complemented by our rustic lamps, including our antler lamps, lodgepole pine log and turned aspen log lamps.
Our rustic lampshades can be a wonderful addition to your log cabin, wrought iron, or country home decorating themes. Come in and look around!
The thumbnail pictures below offer a glimpse of our variety of rustic lampshades. Move your mouse over the images and see what happens!